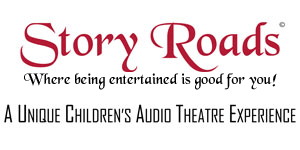 Endorsements
As pediatricians for many years, we have heard from parents frequently about how they are having problems with their children's listening skills. Listening to a good story on an audio CD is a good way to help with a child's focus. The Story Roads tales help to do this in an entertaining way. We are impressed with these products and recommend them."
Drs Peggy and John Legault
Huntington Medical Foundation Pediatrics
Pasadena, California
"I found the Story Roads CD, Wendy and Wally's "Together at Last," to be a charming audio adventure. This story gives a visual and personal face to the growing pains experienced by typical elementary-aged children.
It is not only wonderfully entertaining, but more importantly serves as a great learning tool. In our own visual societies, exposure to entertainment through language (audio) comprehension reaps educational rewards. It promotes listening skills and auditory processing. This CD encourages the facility to visualize and in doing so, improves language comprehension.
I highly recommend this wholesome resource as an addition to your children's auditory library.
Terry Villanueva
Director, Founder
The Learning Castle
La Canada Preparatory
Story Roads presents a growth promoting, heartwarming and entrancing listening experience for children. As a Child and Adolescent Psychiatrist, I am struck by how effectively Story Roads promotes the kind of values, self awareness and expressive abilities which are critical components of raising emotionally healthy and productive children.
In a socially responsible, age appropriate context, Story Roads explores universal family themes, fosters listening skills and healthy self expression. Story Roads teaches by example the value and benefits of constructively verbalizing both positive and negative feelings. Children are shown how to examine their own, often complex motives and take responsibility for their behavior as well as its consequences.
Story Roads is an entertaining, easy listening, and unlike most of what our kids see and hear today, and experience which promotes the skills and values which help children grow into the kind of teens and adults we all hope to raise. I wholeheartedly recommend Story Roads to all parents as both a growth experience and wholesome entertainment for their children.
Richard J. Atkins, M.D.
Child and Adolescent Psychiatrist
Pasadena, California
I am writing to recommend the Story Roads' Children's Audio Theatre series to all families with young children. I experienced the stories with my children and found them to be a great stepping stone to often difficult conversations. Many of the topics deal with family dynamics which can be puzzling to children. Often just recognizing the differences in one's family placement or the array of talent distribution allows children to view each as the unique individual that they are.
I have worked with children for over 15 years. I am raising two of my own children and interact daily with their peers and classmates. I have extensive experience with children in the classroom from grades K-8. I have worked with emotionally handicapped and socio-economically challenged children as well as with children whose first language was something other than English. All of these children have searched for their place in their intricately woven families. All settings for children can be thrilling learning environments or harsh dungeons. What is important to all children and families is that the child in empowered to see where their worth within the family unit lies.
Children's Audio Theatre gives strength back to the family. Current video production separates the families where children go to their own rooms to watch movies while parents watch their entertainment separately. Conversations are squashed since no common activities are taking place. Now movies have moved into the automobile. This further creates an environment where the world of the child is divided away from the world of the adult. Audio Theatre presents and old fashioned style of story telling where imagery comes from within and interpretations are shared.
Once again, I fully endorse the use of Children's Audio Theater for families with busy schedules who do not want to lose the skill of conversation. Keeping the gap small between generations early will minimize the gaps during the teen years. Conversation is the key to keeping the family working.
Monica Stanley
Ojai, California
Master in Education Administration
Certificate of Eligibility for Administrative Service Credential
Professional Clear Multiple Subject Teaching Credential
Professional Clear Single Subject Teaching Credential – Mathematics
Clear Bilingual Certificate of Competence - Spanish
"Story Roads has developed wonderful products. These CD's keep children entertained while increasing their vocabulary, enhancing functional grammar skills, challenging their imaginations and boosting their auditory and memory skills. The first series they have launched, Wendy & Wally: Together At Last, is an exhilarating audio experience for the whole family. It is full of drama, fun, fantasy and interesting characters, while presenting social-emotional struggles familiar to all children The characters are likeable because they are described in detail and are constant reminders of people we have all encountered somewhere along the way. Social challenges are resolved with a favorable outcome, while listeners are given strategies to overcome adversity in their own lives. As a professional in the field of child development I am thrilled to have found a these entertaining and developmentally beneficial products for children of ALL ages."
Lisa Agajanian, M.A.
Child Development Specialist/Special Education Resource Teacher
Pasadena, California
"As a professional both in the fields of entertainment and education, I found the Story Roads' stories to be very creative and enjoyable. As a teacher, I have been VERY concerned, over the course of the last decade, that children are losing the ability to listen quietly to simple things like directions. Story Roads productions such as "Wendy and Wally- Together at Last" can be very helpful to any family traveling with multiage children because it keeps them engaged. I also feel that this series could be used effectively in a classroom setting. Story Roads allows the listener to create pictures in their minds eye (another lost skill of the past) and take a moment to slow down and create at a relaxing pace. I highly recommend these CD's to both families & educators."
Tina Paradiso, Member of AEA, AFTRA, SAG
("Lending a Helping Hand With Music").
Teacher for Language Arts
St. Ignatius School in Portland, OR
"My kids loved the first story from this wonderful new company I discovered. They are eagerly awaiting the next story in the first series. It held my kids interest in the car during a long day of errands and what a joy that
was!"
Deanna Silver – Mother of Three (5,7,10)
"I'm so impressed with the Wendy and Wally CD's from Story Roads. My students love to listen often and they are waiting anxiously for the next release. It's wonderful to not only have a fun teaching aid, but one that helps children feel good about themselves and gives them coping skills. And as a mother of two, it is so nice to have a family activity like listening to these CD's that we can all do together. "
Susie Caldwell
Elementary School Teacher
LA Unified School District
"Wow, we had a great time listening as a family to "Wendy & Wally, Together At Last" in the car. Once the kids were hooked on the story, which didn't take long as I just went down the street to the grocery store, they were pushing me to turn it back on even before I got the car started again. When I first bought the product, I thought it would be fun for the kids, but I ended up enjoying it as much as they did. Something fun and good for them too, what could be better. We can't wait to hear what happens next. I am now a Story Roads devotee!"
Francine Darling – Mother
Ithaca, New York