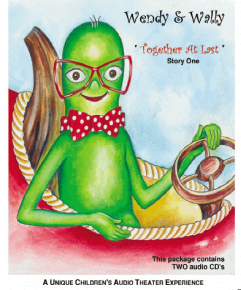 Wendy & Wally


"Together at Last"

Story One


by Karen Ehrenberg

(Audio CD- 2 disks)

Price: $16.95


Availability: Ships from and sold by Story Roads within 24 hours.
Appropriate Age Group: 5 - 10 (but parents will enjoy too!)

Synopsis: In this first story, you meet Wendy, an engaging young girl who struggles with many of her life's realities until she meets a magical worm full of wisdom and surprises who helps her see things a little differently. This story deals with feeling invisible, overcoming fears, learning about the value of listening and personal responsibility.
COMING SOON:
WENDY AND WALLY - By: Karen Ehrenberg
(Ages 5-12)
Story 2: "Wally for One, Wally for All"
Synopsis: In story two, Wendy begins her quest to get Wally to open up his magic to all children, not just middle kids, with the help of her mother, Granny Hanson, and a surprising unexpected guest on the Hanson's farm. Along the way she meets some of Wally's orchard friends for the first time, too. This story deals with the power of commitment, loss, compassion, generosity, and reaching out.
Story 3: "A New Day Is Dawning"
Synopsis: In Story three, change is in the air for Wally, the Hanson's and George Lassiter as each must open themselves up to the life changes that face them. Wendy helps to bolster Wally's confidence, sooth Granny Hanson's anxiety, open Mr. Hansen's heart, and encourages George to begin healing. This story deals will grieving, change, overcoming anger, healing, and finding love and joy.